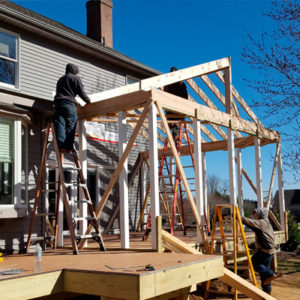 From our creative and thoughtful architects to our friendly and knowledgable craftsman, rest assured you will have enjoy your new decking project from start to finish!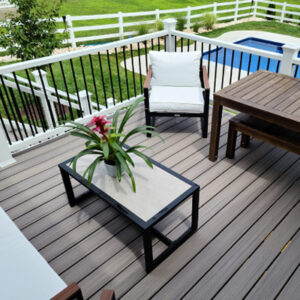 From securing permits to custom finishes, we are your one-stop decking shop!
Never content to settle, we continue to make strides in outdoor engineering, melding innovation with environmental responsibility and beautiful form with powerful function.
The power of the outdoors has met its match. Trex is engineered to endure decades of foul weather and foot traffic …with the warranty coverage to prove it. With virtually every product covered by our 25-Year Limited Residential Warranty, you can be rest assured that your backyard investment is well protected. And even better: our high performance decking products come with an extra layer of coverage: an additional 25-Year Limited Residential Fade & Stain Warranty.
And we make them available to you! As the first company to combine the durability of recycled plastic with the natural beauty of reclaimed wood in a high-performance decking product, Trex leads the way in applying this proprietary technology to a wide variety of outdoor applications for low maintenance, luxurious outdoor living.
Unyielding Resolve
From the moment Trex was founded, they have been dedicated to developing the world's most innovative decking. From reclaimed wood, plastic film and sawdust, they create durable, low maintenance, high-performance materials that withstand the harshest outdoor conditions – not to mention the most demanding designers, builders and homeowners. And we are here to design and install for you!
We are a strictly New Trex Decks only company and do not offer re-decking services for a number of reasons. Older decks are rarely up to current building codes and the framing should always be replaced as it is only meant to last for the lifetime of the original deck and is only a fraction of the total cost of the new deck. We do not offer power washing, staining, re-screening or modifications or repairs to existing decks. Our crews are dedicated to building 100% new Trex Decks and only offer repairs for decks we have built.